Borlabs Cookie now supports Ezoic. However, it is currently mandatory to set it up via our beta IAB TCF plugin.
Important information about the IAB TCF version and Ezoic.

-> The beta plugin is not on the same level as the standard plugin - but still fully functional. With Borlabs Cookie 3.0 there will be no more 2 separate Borlabs Cookie versions.

-> Ezoic will tell you which vendors to configure. Although IAB's TCF is the current industry standard, it is controversial in its current form.

-> Ezoic always sets cookies!

-> We have no control over this. We just provide the tool.
Step 1: Download and install IAB TCF version
First, please log in to our customer portal.
Under the menu item "Licenses" you will find our standard Borlabs Cookie plugin as well as our fully functional IAB TCF version for download.
You currently need the latter if you want to use Ezoic in combination with Borlabs Cookie.
If you currently have our standard plugin installed, please uninstall it first and then install the IAB TCF plugin.
Note: Please remember to backup your export data if you want to import previously created cookies into the IAB TCF plugin.
Step 2: Add Ezoic as a partner
After installing and activating our IAB TCF plugin, click on "IAB TCF" in the menu bar. 
Now enter Ezoic under "Filter Vendors" and set the status under "Available Vendors" to ON.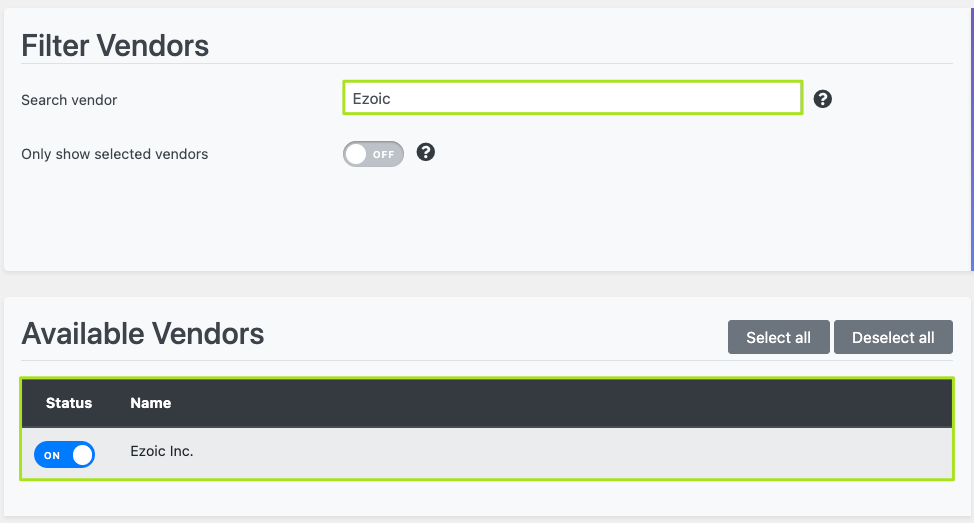 After that, notice the box with the note "IMPORTANT" and confirm after reading the conditions of all points to be able to save the settings.