Those who want to create photo galleries in WordPress can either use the already integrated gallery function of WordPress or install a suitable plugin.
There are already many plugins on the market that you can use to create galleries and albums. The NextGEN Gallery is currently one of the big favorites.
Unfortunately, the Imagely plugin causes problems for many users now and then. For this reason, you are perhaps looking for a suitable alternative? In this article, we present three more useful providers in the photo segment.
What is the NextGEN Gallery - Plugin for WordPress
NextGEN Gallery is one of the most popular plugins for photo galleries or albums in WordPress. The plugin has more than 900,000 active installations.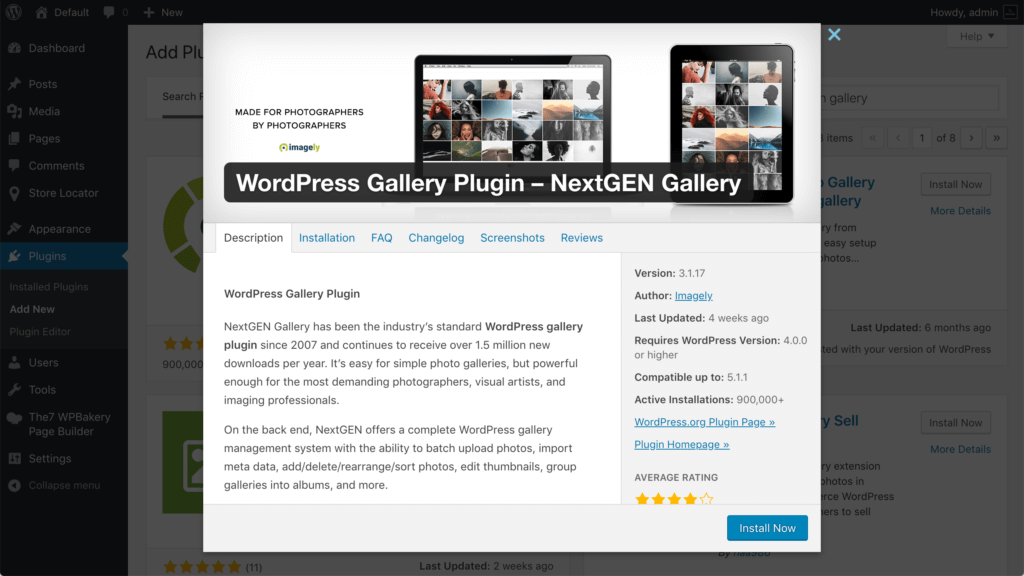 Despite its popularity and extensive features, user opinions vary widely. This is probably due to the fact that the plugin does not always run without complications.
3 Alternatives: Envira Gallery, Modula, FooGallery
Among the 3 alternatively presented photo gallery plugins are the Envira Gallery, Modula, and FooGallery. All three plugins are available in a free version. If you need additional functions in the respective gallery plugin, you will have to use a premium version.
Envira Gallery
The photo gallery plugin Envira Gallery offers you numerous possibilities to create galleries in various ways. The easy-to-use drag-and-drop interface lets you quickly create photo galleries. Envira Gallery offers its users gallery templates, so-called "standalone" galleries, responsive galleries and a variety of additional add-ons such as for videos, WooCommerce, social media, water brands, and much more.
In the free version Envira Photo Gallery Lite all functions are included to create a simple and great photo gallery in WordPress.
Modula
Modula is a photo gallery plugin for WordPress that offers its users a handy drag-and-drop interface and many more customization options for creating individual galleries. Images can be modified in height and width within a container using Modula. For advanced customizations, advanced users can also customize via CSS.
Modula already offers very useful functions in the free version Modula Lite. Here you can play with grid functions, shading or borders.
FooGallery
FooGallery is another good alternative to NetGEN Gallery. The photo gallery plugin for WordPress offers responsive galleries in many different layouts. Images can be dragged and dropped inside the gallery. Another useful feature of FooGallery is the integrated "Lazy Loading", which loads the images and galleries performance gently when the page is called.
The free version offers an album function, which makes it easier to create matching galleries. The plugin offers you integrated gallery templates, hover and image effects as well as the integration of videos in galleries.
Recommendation: Envira Photo Gallery
In our opinion, the photo gallery plugin for WordPress "Envira Photo Gallery" is the best alternative to the NextGEN Gallery plugin at the moment.
Envira Photo Gallery offers you the following functions in WordPress:
Drag & Drop Editor
Galerie Templates
Galeries in Responsive Design
"Standalone"-Galeries
Lightbox
AddOns (Social-Media. Album, Videos, Slideshow, WooCoomerce, Lightroom, Tags, Fullscreen, CSS, Downloads, Breadcrumbs, Zoom, Password, NextGEN Importer, and much more)
The special thing about the Envira Photo Gallery plugin is that it is the fastest plugin in its category. This means it has been specially designed for fast loading of websites and its galleries. There is currently no other plugin of this kind that can match the Envira Gallery in terms of performance.
Another highlight of the Envira Photo Gallery is that it offers its users a NextGEN Importer. So if you are currently using the NextGEN plugin and want to switch to the Envira Photo Gallery, you can easily import your galleries and albums.
If you want to create more than just a simple gallery with Envira Photo Gallery, the premium versions are available in 4 price ranges.
NextGEN Gallery data export - How it works!
We have already introduced the Envira Photo Gallery, as a recommended alternative to the NextGEN Gallery. Especially this photo gallery plugin offers you a direct import function. So you can easily transfer galleries and albums from the NextGEN Gallery to the Envira Gallery.
Unfortunately, not every plugin offers such a function, so you can only import galleries and albums directly into a new plugin. An export plugin, with which you can save your galleries and albums at least locally, is the WordPress Gallery Exporter.
With the WordPress Gallery Exporter data (galleries, albums) of NextGEN, Envira and the FooGallery can be saved locally on your computer. You can then upload them to your currently used photo gallery plugin. Unfortunately, this is not a real import/export solution, but a simple way to exchange data in a small detour.
Bottom line
If you are looking for an alternative to the NextGEN Gallery, the above-mentioned plugins Envira, Modula and FooGallery provide a suitable selection. If you want to easily export your data from the NextGEN Gallery and use it with a new photo gallery plugin, we recommend the Envira Photo Gallery.
How did you like the article?
Thank you very much for your feedback!