Anyone who runs a WordPress site knows how annoying it can be when errors occur in the database or data is lost, for example, when plugins or themes used are outdated, unsafe tools are installed, or your website is hacked. What to do?
In order to protect yourself from the above-mentioned threats, you should make regular backups of your WordPress site. This way, if the worst happens, you can restore your WordPress installation within a few minutes.
Here we present four helpful backup plugins that will help you automate regular backups and restore at any time.
5 WordPress plugins to create backups
WP Staging - Backup & Migration
With the WP Staging plugin, you can not only easily create a staging environment directly on WordPress or clone your site, but also create backups with just one click and restore them if necessary. For this purpose, WP Staging offers you the function "Backup & Migration".
Backups can be started directly or scheduled. With the scheduling function, backups of your WordPress site are performed automatically at regular intervals. You can also choose where the backups should be stored (e.g. locally or in Google Drive).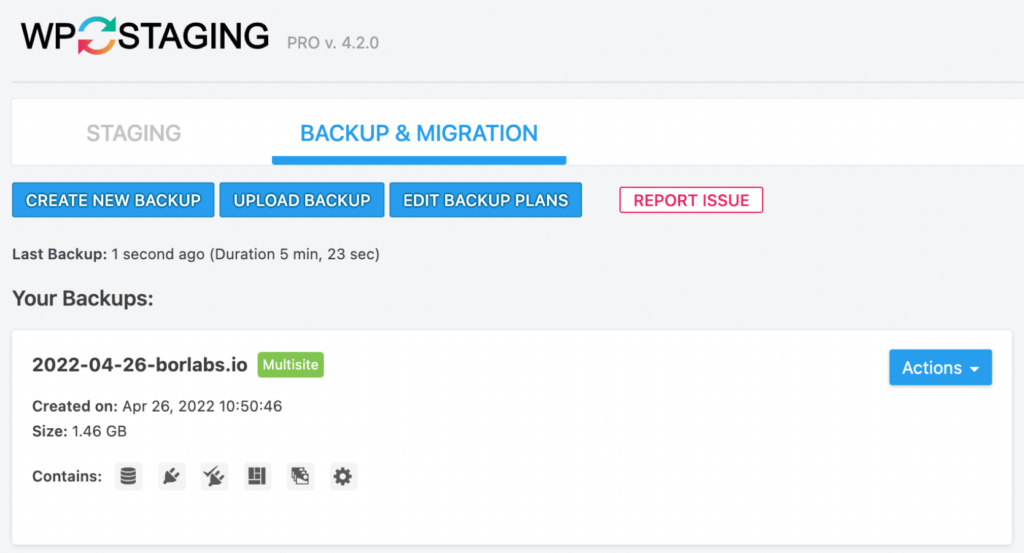 You also have the option to specify which data should be included in the backup. In the backup settings, you can choose between files such as themes, plugins, database, content, and media library, among others.
If you want to restore a backup, this is also possible with WP Staging Backup & Migration. To do this, simply select the appropriate backup. With just one click you can start the restore process.
The most important functions at a glance:
Backup & Restore
Cloning
Website Migration
High Performance
Staging environment
Multisites
WP Staging is available in a free version, which only includes the creation of a simple staging environment. On the other hand, there is a Pro version, in which the Backup & Migration function can also be used.
There are currently three different packages available in the Pro version, which differ mainly in the number of websites that can be used.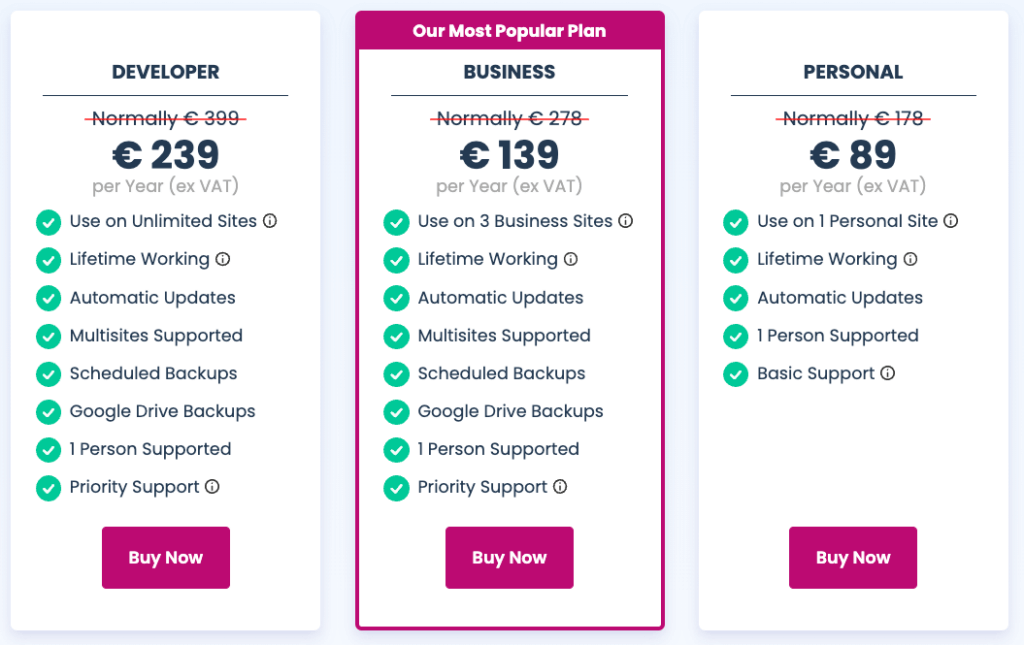 BlogVault
BlogVault is the "most reliable backup plugin for WordPress" - at least this is what the manufacturer claims. But BlogVault actually offers a unique backup feature including free cloud storage.
The backup tool, in addition to the actual function of backing up WordPress websites, has the ability to create a free staging environment within the cloud. This means you can continue to develop and test your WordPress site before restoring it.
In addition, you have round-the-clock access to the backups in the cloud, so that you can really perform a so-called "restore" at any time, should your site no longer function correctly or be faulty. All backups are archived in the cloud for up to 90 days.
BlogVault offers multi-site support as well as premium support in all plans. A backup is performed completely automatically once a day.
The most important functions at a glance:
Backup & Restore
Complete backup
Cloud-storage
90 days archiving
Staging environment
Support
BlogVault is available in a total of four different plans. The entry-level plan (Personal), which includes a total of one website, starts at an annual price of $54 per. If you want to use more than one website with BlogVault, the provider offers additional plans that can manage more than 20 websites.
---
BackupBuddy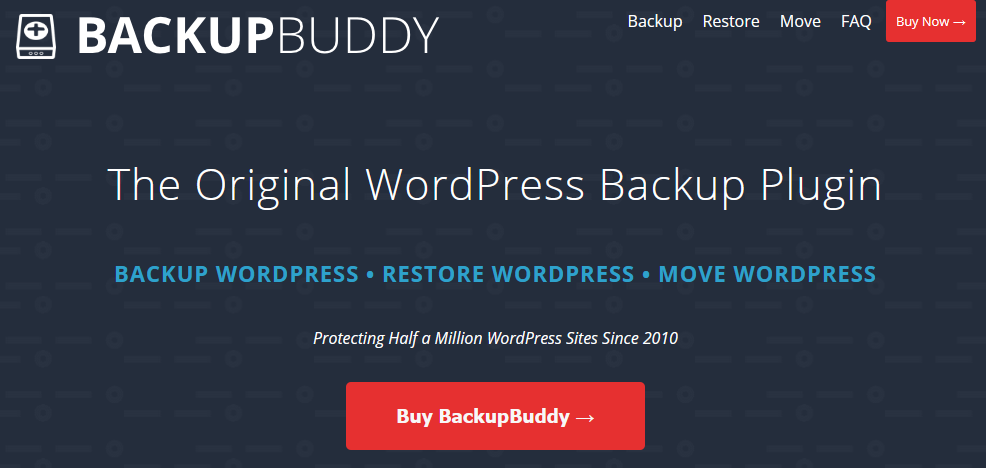 The plugin BackupBuddy is one of the classics when it comes to tools for backup and restoration of WordPress sites. First released in 2010, BackupBuddy now belongs to ithemes, which itself offers a comprehensive security plugin.
With the help of BackupBuddy you can back up your entire WordPress site. The backup can be easily scheduled in advance after installing the plugin and will be executed fully automatically.
You can customize which data should be backed up by BackupBuddy: Only the database, only specific files like plugins, images, themes or similar.
The finished backup is available as a zip file after execution in the WordPress backend. You can also store it in many other secure locations outside of WordPress. For example, the backup can be stored directly in Amazon S3, Google Drive, or Dropbox.
With the special tool "ImportBuddy" you can restore any file with just a few clicks.
The most important functions at a glance:
Backup & Restore
Complete backup
External backup possible
Support
BackupBuddy is available in a total of 3 different plans, such as the "Blogger" plan, which allows you to manage 1 website. This has an annual price of $40.
If you want to manage more than one or ten websites with BackupBuddy, you can choose between the two other plans "Freelancer" and "Gold".
---
VaultPress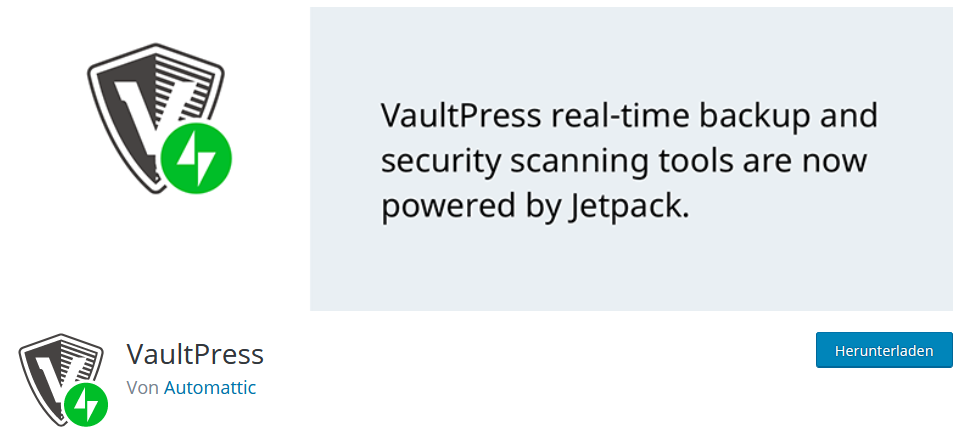 With the help of VaultPress plugin, you can easily back up your WordPress site. The tool works similarly to the backup plugin BlogVault already mentioned here. Because here, too, the backups are saved directly at the provider.
This means that the plugin connects to VaultPress and its dashboard and backs up the data. The backup is done in real-time and once a day - fully automatic. The entire WordPress site is backed up.
Just as it is easy to create a backup with VaultPress, it is also possible to restore backups in the future. For the migration of a backup, you can also use a 30-day archive with this tool. The "Restore" is then done with just one click.
The special thing about VaultPress is that this backup plugin not only provides you with functions for pure backup but also tools for monitoring brute force attacks or spam monitoring for comments and ping backs.
The most important functions at a glance:
Backup & Restore
Complete backup
Brute Force Security
Spam Security
30 days archiving
Support
VaultPress is available in 3 different tariffs. One is the Personal plan, which costs $39 annually, and the other is the Business plan, which is divided into two price categories.
The business tariff differs mainly in that you can choose between a so-called Security Scan for your website and additional video hosting.
---
ManageWP Worker
ManageWP Worker is a whole toolbox full of useful tools for your WordPress site. The tool includes functions such as creating backups, updating WordPress, monitoring (SEO, Google Analytics), site optimization and much more.
All these functions are controlled from a single dashboard, directly from the provider. In order to use the tool as a backup plugin, among other things, you need to install the associated plugin and connect it to the ManageWP Worker dashboard.
You can schedule the backup in advance, as with all the other plugins already presented. As with the BlogVault backup plugin, you have free cloud storage available for a monthly and free backup.
Of course, you can also restore your data at any time with the ManageWP Worker plugin. By the way, the entire WordPress site is backed up here as well.
The most important functions at a glance:
Backup & Restore
Complete backup
Cloud storage
Update-Manager
Security Check
Analytics
Performance Check
Support
ManageWP Worker is available to you with a variety of basic features. That is, a monthly backup within the cloud is completely free of charge. However, if you want to create more than one backup per month, you have to purchase the appropriate add-on.
You can buy the Premium AddOns either individually or in a bundle. For the purchase "per website" the AddOns are limited to up to 25 websites. In the bundle, they can be used for up to 100 websites.
---
The backup plugins at a glance


BlogVault
BackupBuddy
VaultPress
ManageWP
Backup
(vollständig)
Yes
Yes
Yes
Yes
Externe Sicherung
No
Yes
Yes
No
Restore
Yes
Yes
Yes
Yes
Cloud-Speicher
Yes
No
No
Yes
Archivierung
Yes
No
Yes
No
Besonderheiten
Staging environment
-
Brute Force Security
Spam Security
Update-Manger
Security Check
Analytics
Performance Check
Einstiegs-Preis
54 $
40 $
39 $
free
Conclusion
Creating regular backups is essential for every website owner. Because if there are no backups and a "crash" occurs, all data can be lost.
With a backup plugin you can prevent this danger and restore your website as quickly as possible in case of an emergency.
How did you like the article?
Thank you very much for your feedback!