What is Ezoic?
Ezoic is a California-based technology company and Google Publishing Partner that helps website owners optimize websites using Artificial Intelligence. Ezoic's AI helps intelligently test ad positions, increase page speed, SEO, mobile web, and much more.
Ezoic is best known for its AI monetization (Ad Tester), which intelligently improves a website's ad revenue with just a few steps.
How does the Ad Tester work?
Ezoic is not an ad network. The ads used in the tests come from thousands of networks, ad exchanges and advertisers. The largest part comes from the Google Ad Exchange.
Every publisher can bring their existing ad networks (e.g. Adsense) to Ezoic and automatically compete against all other providers with the help of the AI. Thus, the highest price for the inventory is always achieved.
Ezoic allows its users to intelligently test ads in real time per page, visitor, device, time, location and other factors. This is done by testing manually configurable ad positions, sizes and quantities to find the most successful ad layout per visitor.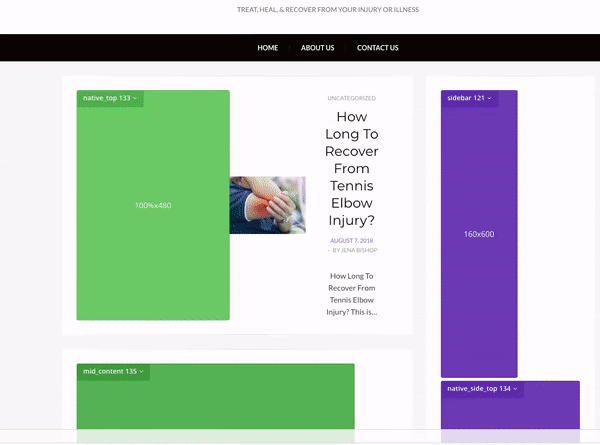 Artificial intelligence learns from this data and makes appropriate changes. In doing so, it follows individually configurable optimization goals: Whether revenue, user experience, or a balance of both - the AI helps to achieve the goal, while the website operator always retains control.
Ezoic's Ad Tester promises more page views per visit, increased session duration, and reduced bounce rates. On average, using Ad Tester increases website owners' revenue by 50 percent.
Those who want to use Ezoic are supported during the free setup with a personal onboarding specialist, knowledge base, and publisher success team.
What is the difference to AdSense?
The biggest difference between AdSense and Ezoic is the payment model. Anyone who uses AdSense knows that Google only pays for clicks. Ezoic takes a different approach and pays for ad impressions, i.e. visual contact with the ad. So a visitor doesn't have to click on an ad anymore, it's enough if the ad is shown to him on the website. This makes Ezoic much more lucrative. Compared to AdSense, using Ezoic increases revenue by an average of 50 percent.
However, this does not mean that website operators have to completely give up access to AdSense. With Ezoic, AdSense remains active, but competes against all other networks. This is possible through access to Google's Ad Exchange and Ezoic's header bidding and mediation.
Another difference lies in the measurement of advertising revenue: AdSense relies on RPM (revenue per thousand page views). Ezoic, on the other hand, uses EPMV (revenue per thousand visitors). With EPMV, the entire session is considered, and more reliable statements can be made about the performance of the website - and appropriate changes can be made.
Unlike pure advertising networks, Ezoic also takes into account the visitor experience and thus acts in the interest of the website operator.
Big Data and other functions
Ezoic offers a range of functions to analyze data. Users have free access to features like those offered by Google Analytics 360 and can view, for example, revenue per word count, revenue per landing page, and RPM per keyword.
Ezoic also offers a number of tools and features for publishers, such as Site Speed Accelerator, PWA, AMP, Video Tester, Tag Tester, Edgecaching CDN, Layout Tester and SSL support.
Ezoic and GDPR / Data Protection
Ezoic is IAB TCF 2.0 certified and can be used in a GDPR-compliant way thanks to Borlabs Cookie support. There is also a "Super Privacy Mode" (in beta phase) that blocks all cookies before the visitor's consent.
Currently, Ezoic is the only Google partner that offers such a function, especially for the German market.
How much does Ezoic cost?
The Ezoic platform is free of charge for all website operators. The Ad Tester comes with a 30-day free trial and is subsequently to be financed either proportionally with 10% of the advertising revenue or a small text ad at the bottom of the page.
Those who use Ezioc do not sign any contracts and have no obligations. Those who test Ezoic and are dissatisfied can switch back to another system without any problems.

Are you interested in Ezoic? Here you can switch to Ezoic.*
*Affiliate Link
How did you like the article?
Thank you very much for your feedback!