Nowadays every website should offer a way for cookie consent in order be in line with the cookie GDPR compliance. This means that an implicit consent of an individual is not enough anymore. Every user of any website should give his explicit consent in order to allowing the use of cookies. The underlying thought is that any individual has the choice whether to consent to cookies or not. Not complying with the law, website owners risk huge fines that could even reach up to € 20 million. Therefore it is essential to not ignore the cookie consent law and apply it without a shred of doubt.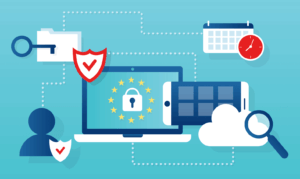 First of all: what's a cookie? Cookies are no more than small text files that are put on a device to improve the web surfing experience. When a user does not have to type his username and password for example, as they are already remembered, that is thanks to cookies. But also think about targeted advertisements a user sees. When one does not add cookies he would just see random ads, while when he does add cookies he gets more personalized offers that suit his profile. With a cookie one can simply identify himself easier. There is no reason to be afraid of cookies. When websites add cookies most of the times there is no harmful intent at all. Unfortunately cookies could be used in a way that is not in the best interest of the individual. Therefore rules have been set around cookie consent in order that any individual must decide which cookies can be used and which ones not.
The General Data Protection Regulation (GDPR) is based on EU law to ensure privacy and data protection of all individuals in the European Union (EU). The GDPR cookie consent refers to the fact that users have to be explicitly and unambiguously informed which cookies on a website are activated and what kind of personal data is collected and used. In this way users themselves give their consent to allow a website to activate its cookies to process personal data. Cookies consent is required for websites to be in line with cookie compliance law. Only websites that are cookie compliant can collect, process and share personal data of EU individuals.
The cookie law is vital legislation to ensure data privacy. It secures individuals privacy online. While the GDPR refers to general privacy, the cookie law only focusses on cookies consent and cookie compliance. With this piece of privacy legislation, websites are required to get consent from visitors to store and retrieve any information on any device. These cookie regulations are embedded in the cookie law, and offer essential privacy protection. Cookie law info can be mainly found in the European Union.
EU cookie law
Europe has proven over and over to be the leading tech watchdog in the world. While in the United States cookies can be used freely without consent, in the European Union the EU cookie law, the GDPR and the ePrivacy Regulation are essential tools to protect the right to online privacy for its citizens. The EU cookie law was passed in 2002, and amended in 2009. This EU cookie law has serious effects on the user experience of managing cookies and tracking. Although many refer to the EU cookie law, it actually is just a EU cookie directive. This has led to different implementations of the EU cookie law in the different European countries. Cookie consent EU therefore is not so coherent as the EU cookie law might seem. There is no 1 EU cookie policy, but the European cookie law knows many sorts of implementation, depending on the nations priorities regarding privacy protection.
Not surprisingly, not the EU but Google is considered to have set the industry standards on cookie consent. The Google cookie consent ensures that all ad partners have to be full cookie compliant. As governments focus on the big players, and fines are just given to larger websites, Google forces any website that wants to advertise to feature 100% cookie compliance. It is that simple: no cookie consent, no ads. This has seemed a very effective way to push all websites that want to use Google's services to offer full cookie consent.
The main question "what is cookie consent" leads to the actual cookies notification. When you access a website you should see a cookie notice with a cookie message. This cookie notice should contain the cookie warning that cookies are used on this particular website (we use cookies message), and if the user consents to this cookie notice. An implicit cookie notice is just not enough. The user has to press ACCEPT or YES to the cookie notice. If the user agrees to the cookie notice one could speak of a cookie agreement. Cookie acceptance allows the website to use cookies to collect personal data in the exact way of the cookie agreement.
The cookie notice can be implemented in various ways:
Cookie popup
The cookie notice can appear as a cookie popup. This cookie consent popup makes sure that you cannot continue on the website without accepting the cookie alert. The cookie popup can therefore be seen as the gatekeeper of any website. If you do not agree to the terms of the cookie notice you can just not enter the website. This form of cookie notice can be applied when the website simply does not offer enough value without cookies. Or when a website owner just wants to be sure that there in no single shred of doubt around the cookie consent. This form of website cookie message is often seen as the most effective way to implement a cookie notice.
Cookie banner
The second way to implement the cookie notice on a website is the cookie banner. This cookie consent banner is more subtle compared to the cookie popup and the cookie banner does not stop one to use the website. A user can simply access the website without accepting the cookie banner, and use the website as far as possible. The downside is that no cookies can be implemented until the user accepts the cookie consent with the cookie banner. This can lead to less functionalities of the website, and the cookie banner remains visible at all times.
The cookie banner should offer a clear way for cookie consent. By clicking YES or ACCEPT on the cookie banner, the user accepts the cookie policy banner and provides the website with cookie consent. This cookies notification in the cookie banner can be subtle but should nonetheless be clear without any ambiguity. The EU banner does not allow an implicit cookie notice like the cookie warning message: "By using this website you allow the use of cookies". This for of cookie banner is considered to be illegal, and could lead to huge fines in the worst case. Therefore a website owner should really consider well what the website cookies message on the cookies banner is.
Cookie text
Law is all about texts. This applies no less to the cookie text in both the cookie popup and the cookie banner. The cookie notice text should be easy to understand and cannot be ambiguous. Online one can find an approved or best practice cookies consent text that makes sure that a cookie consent message is according to the cookie law. The "this site uses cookies message" is essential to the cookie compliance whether one actually gets cookie consent of the user. A cookie consent text that is not correctly formulated might lead to severe consequences. The cookie notice therefore is all about the cookie text.
How to add cookies to your website?
Cookie notices come in different forms and shapes as we already have seen. Therefore we provide some cookie consent examples. These cookie notice examples can be divided in:
How to add cookies to a website is not the challenge at all, but a cookie consent tool might be. With the cookies manager one could easily add a cookie consent tool to a site. The question however which cookies manager provides the best cookie consent tool. A cookie consent tool that does not give any doubt and ensures that one complies with the cookies consent by the cookies manager.
Cookies plugin
The cookies consent tool is no more than a Jquery cookie plugin script that is added to a website. This cookie plugin contains a cookie consent script that is triggered by every visit to a website. The cookie consent plugin can easily be installed on any content management system (CMS) and the cookie plugin can be adjusted according to specific desires. The cookie plugin features a cookies manager where settings can be altered. This cookie notice plugin therefore offers a plug-and-play method to implement a cookie plugin by offering a cookie consent tool.
WordPress cookie
The WordPress cookie notice might be one of the most used cookies notices in the world. As most websites are built within this CMS, the WordPress cookie notice is widely available. WP cookies can be easily converted into a WordPress test cookie that is completely in line with the WordPress cookie policy. WordPress set cookies have never been easier with the WordPress cookie notice. The WordPress cookie notice therefore is the easiest way for cookie consent WordPress. Cookie consent WordPress like it was meant to be.
To install a WordPress cookie notice one simply goes to the Plugins section of WordPress. Either one could install anew WordPress cookie notice that was sent by email, or search for a WordPress cookie notice that offers cookie consent WordPress. Installing a WordPress cookie notice can be done in less than a minute and makes sure the cookie consent is compliant with the EU cookie law. A cookie consent WordPress makes sure one is safe how they deal with cookie consent.
WordPress cookie plugin
The cookie consent plugin WordPress is easy to personalize. The WordPress cookie plugin offers different features for cookie consent. Shape and size of the WordPress cookie consent plugin for example. But also texts or languages of the WP cookies plugin. The question is if one uses the standard features of the WP cookie plugin or if it should be personalized. The cookie policy plugin WordPress can be adjusted to one's exact needs and desires in the cookies manager. Therefore the WordPress cookie plugin offers all the flexibility a website needs.
Best WordPress cookie plugin
Which one is the best WordPress cookie plugin? A question that is asked by millions of website owners. When searching in WordPress over 500+ WordPress cookie plugins can be found. Popular WordPress cookie plugins with over 1 million downloads, or more specialized WordPress cookie plugins that offer best reviews of 5 out of 5 stars. Most WordPress cookie plugins are free, and some charge a small fee. The best cookie plugin WordPress therefore depends a lot on the exact needs, desires and budget. When putting all needs and desires in an overview the best WordPress cookie plugin can be selected for just any website!
WordPress Cookie Plugin to comply with the GDPR and ePrivacy regulations in the EU.